HNU International Students Win First Prize in "ChinaExploration" Zhejiang Preliminary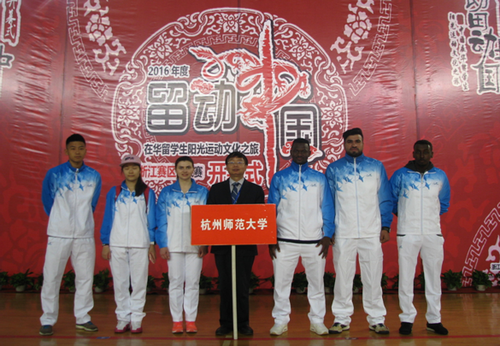 On May 7 and 8, Hangzhou Normal University (HNU) sent a team to participate in the Zhejiang Preliminary of the 2nd "China Exploration—Sunshine Sports and Culture Journey for International Students in China sponsored by Department of International Cooperation and Exchanges, Ministry of Education. The sports and culture event of "China Exploration" (Zhejiang Preliminary), adhering to the principle that "sports set the stage and culture plays the star role through team work and Sino-foreign integration", is aimed at the universities in Zhejiang to select teams of international and Chinese students to participate in the competitions such as orienteering, 3 on 3 basketball game and sports art performance.

Through the fierce contention, the HNU team won the first prize with honors, and will, on behalf of Zhejiang, participate in the southeast division of the 2nd "China Exploration" in mid May.
This event has cultivated the team spirit of Chinese and international students, enriched their spare-time cultural life, broadened their knowledge and cultural horizon and improved their Chinese communication capability. It also has helped spread Chinese national culture and spirit and enhanced HNU's influence and popularity in educational internationalization.