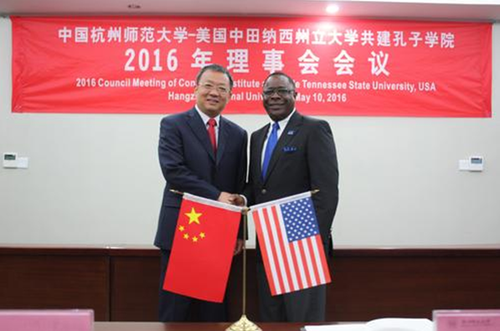 HNU President Du Wei Meets with President of American Middle Tennessee State University (MTSU)
Sidney A. McPhee Delivers a Speech and Poses for a Group Photo
On May 10, Sidney A. McPhee, President of Middle Tennessee State University (MTSU), Andrew Oppmann, MTSU Vice President, Zheng Guanping, American Dean of Confucius Institute, Han Mei, Director of Chinese Music and Culture Center, led a delegation to visit Hangzhou Normal University (HNU) and attend the Council Meeting of Confucius Institute. Du Wei, President of Hangzhou Normal University (HNU), met with the delegation. Representatives from School of Alibaba Business, School of International Service Engineering, School of International Education, and Department of International Cooperation and Exchange also attended the meeting.
At the meeting, Du Wei extended a warm welcome to the guests. Both parties reached consensus on building an all-round cooperative partnership. Du Wei said that, concerning the good relationship between the two universities, both sides should further cooperate in building scientific research platforms, strengthening the exchange of students with scholarship and broadening the channels of communication between teachers, based on the existing solid cooperation. McPhee introduced to the Council the achievements of Confucius Institute in recent years, expressed his gratitude for HNU's hard work and important contributions to the construction of the Chinese Music and Culture Center, and pointed out that MTSU would continue to strengthen cooperation with HNU in an all-round way. After Professor Zheng Guanping's summary about the work of Confucius Institute in the past year and Professor Han mei's report about the building of the Chinese Music and Culture Center, the council fully affirmed the outstanding achievements in the promotion and transmission of Chinese Language and Chinese musical culture made by the Confucius Institute and Chinese musical Culture Center, and discussed plans and cooperation programs for future development.
After the meeting, McPhee gave a speech on American college education. He started with his own experiences, introduced the basic information of American universities. He also put forward some suggestions for Chinese students to choose American universities which are suitable to them, and make adequate preparations in terms of professional quality, communication skills, learning and living attitudes, and so on and so forth, in a bid to provide beneficial guidance for the students. The students actively participated in the interaction at the lecture.