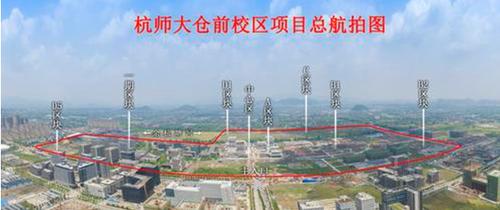 An Aerial Photo of HZNU Cangqian Campus
With the concern and support of Hangzhou municipal government, the second-phase project of Hangzhou Normal University (HNU) Cangqian Campus was started following the construction of area B1 and area B2, except for the area C (teaching area) and area D1. The details are as follows. In Area B1 (Division of Science and Technology), the living quarter has been built up to the 7th floor; the teaching area has finished the foundation engineering construction of underground and earthwork collection; and the pile foundation of teachers' apartment building is being detected. In Area B2, the pile foundation of the Adult Education Building is under construction and maintenance. Area C (Division of Medicine and Life Science) is divided into two quarters, the living quarter and the teaching quarter. The construction of the living quarter was started in the end of April, and the teaching quarter is calling for bids. And Area D is divided into D1 and D5.
D5, which is consisted of a tennis court, a swimming pool and a gymnasium, has had the pile foundation under construction. D1, including the Aesthetic Education Museum, Jing Hengyi Honors College, School of Education and Teacher Education Training Center, has been in its design stage and is planed to start construction in the end of July. HNU will sincerely cooperate with construction enterprises to focus on the construction quality of the project, in order to achieve the goal of putting all buildings into service in August, 2018.