Quality Certification Experts for First Batch of Pilot Universities Enrolling International Students Visit HZNU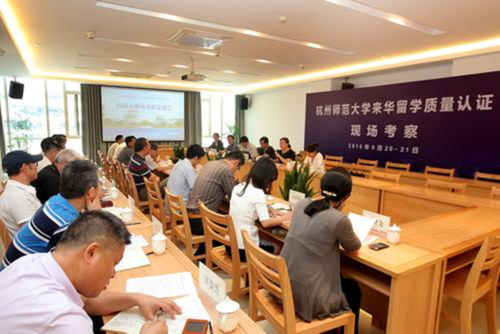 Quality Certification Experts for First Batch of Pilot Universities Enrolling International Students Visit HZNU
From 20 to 21 September, a quality certification expert group for international students studying in China, led by Zhou Yan, Deputy Secretary of China Education Association for International Exchange, and Han Weichun, Dean of International College from University of International Business and Economics, paid an inspection visit to Hangzhou Normal University (HZNU). The experts was informed of the details about HZNU's education and teaching for international students and made a feedback on the relevant work through looking up files, inspecting teaching facilities, and interviewing with teachers and students.
University leaders including Du Wei, Wang Lilin and He Jun, and Li An, member of the University Party Committee, attended the overview or feedback meeting. Related officials from the Education Research Center of China Education Association for International Exchange and Foreign Affairs Office of Zhejiang Provincial Department of Education participated in the inspection.
In recent years, with the result that the plan of encouraging international students to study in China has been fully implemented, the size of studying in China has been expanding and the number of international students studying in China have been increasing year after year. This March, China Education International Exchange Association, entrusted by the International Division of the Ministry of Education, launched the "Quality Certification for Studying in China" among national colleges and universities to promote a healthy and orderly development of international student education in China, and the perfect quality security system of studying in China as well.
At the overview meeting, Han Weichun and Zhou Yan made an explanation on the background, significance, purpose and methods of introduction of quality certification for studying in China, and expressed their gratitude for HZNU's active cooperation with the inspection work. HZNU President Du Wei introduced the generation situation of the university as well as its work for the international students from guiding ideology, teaching conditions, teaching practice and cultural exchange, management services, educational quality, work characteristics, and work plan.
The expert also looked up the self-assessment report of quality certification for studying in China, made a field visit to the teaching site, facilities and equipment , and the apartments for international students, and interviewed leaders responsible for teaching and management of international students, teacher representatives and student representatives.
The feedback meeting was held on the morning of September 21. The experts gave credit to HZNU for its relevant work and put forward four suggestions. Firstly, HZNU should refine the educational guiding ideology for international students studying in China, get itself closely linked to the spirit of the national conference on studying abroad and combined with its own disciplinary advantages and characteristics. Secondly, HZNU should actively "go out" and build a system with the characteristics of its own by learning from the system achievements and good experience of other colleges and universities. Thirdly, HZNU should focus on its development of teaching staff and management team, make efforts to improve its work in teachers training and assessment, and provide advisors for international students. Finally, HZNU should optimize its training program for foreign students, adjust the curriculum, establish a sound teaching evaluation system, and gradually implement the training mechanism of convergent talents.
President Du Wei expressed his gratitude to the experts for their feedback and said that the university will seriously accept the suggestions and make external researches to further strengthen the development of teachers and management team. At the same time, the university will turn the experts' suggestions into practice and strive to improve its teaching and management for international students.