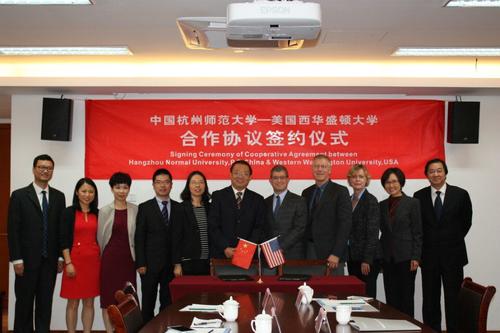 Signing a Cooperative Agreement
On October 10, Vice President Brent Carbajal of Western Washington University (WWU) visited Hangzhou Normal University (HZNU) with his delegation and signed a cooperative agreement with HZNU, HZNU President Du Wei met with the guests, and HZNU heads of related departments, including the Department of International Cooperation & Exchange, School of Political and Sociological Science and School of International Education, attended the meeting.
Du Wei extended a warm welcome to Brent Carbajal and the delegation. He pointed out that the cooperation between two universities was an indispensable part of HZNU's international strategy because of the two schools' similarities in climate and school atmosphere, as well as the complementary advantages in teaching, scientific research and many other aspects. Brent Carbajal expressed his support for Du Wei's suggestions on cooperation and exchange. He hoped that the two universities could exchange and cooperate in different disciplines. Both sides also discussed the China-Foreign Cooperation Project, and long and short-term student exchange project and postgraduate-level cooperation project.
After the meeting, they signed a cooperation agreement, stipulating that the two universities will hold activities for exchange and communication among the students and teachers every year.
Western Washington University is located in Bellingham, Washington of the. It, founded in 1893, is a famous four-year private university, with a history of 100 years. In 2007, WWU ranked second in the US Information Catalog for public universities' graduate schools. And it established a teacher and student exchange project with HZNU in 2014.