GSU President Mark P. Becker Visits HZNU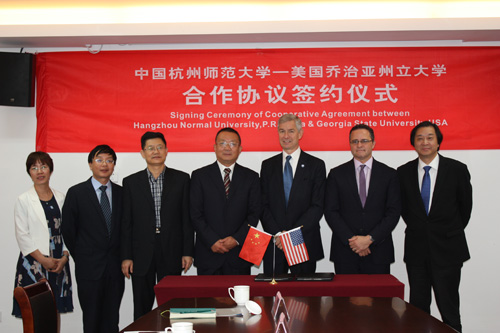 On October 17, President Mark P. Becker of Georgia State University (GSU) visited Hangzhou Normal University (HZNU) with his delegation and signed a cooperative agreement with HZNU. HZNU President Du Wei and Vice President Yang Lei met with the American guests. Heads of related HZNU departments, including the Department of International Cooperation & Exchange, School of Medicine and School of International Education, attended the meeting.
Du Wei extended a warm welcome to Mark P. Becker and the delegation. And he put forward constructive proposals for the possibilities of cooperative projects for undergraduate's dual-degree programs, teacher training for teaching in English, students' scientific research, cooperative teaching by two universities, and foreign students studying in China for a long or short term. Mark P. Becker agreed on the cooperative ideas and proposals. He thought that the long-term substantive cooperation between the two universities has laid a solid foundation for further exchanges in more fields.
At the meeting, both universities renewed the cooperative agreement on the students' summer school project and agreed to continuously promote the exchanges and cooperation for the project in the coming years. After the meeting, Mark Baker and his delegation visited the newly built library.
Hangzhou Normal University established cooperative relations with GSU in 2012. More than 50 students have been sent to GSU for advanced studies and scientific researche. And, GSU also has sent batches of students to HZNU through the short-term study project, jointly teaching project, and so on. It also cooperated with HZNU's School of Life and Environmental Science, School of Medicine, and School of Art in many fields, such as teacher training, exchange of visiting scholars, cooperative research and the like.
GSU, short for Georgia State University, founded in 1913, is a well-known American comprehensive public university. Its Ph.D. education ranks among the top 100 public universities in the, and the university has been ranked as the second-best university inby Forbes.