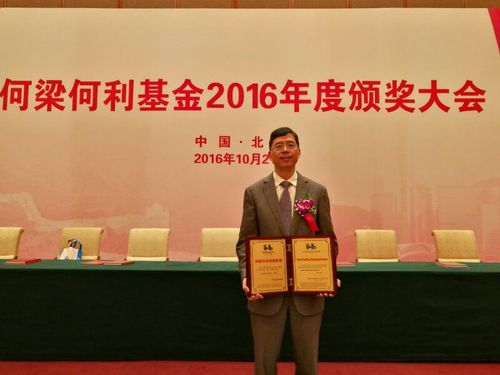 HZNU Professor Xie Tian wins HLHL Foundation Award for Science and Technology Innovation.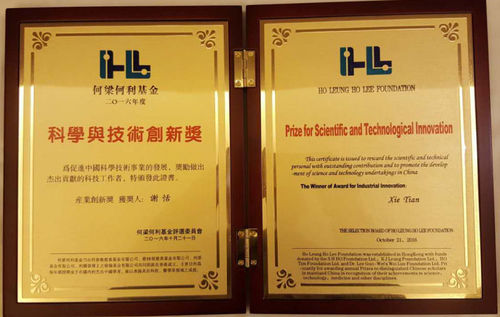 HLHL Foundation Award for Science and Technology Innovation
On 21 October, from the Great Hall of the People in Beijing came the news that Professor Xie Tian from Medical Faculty of Hangzhou Normal University (HZNU) won the 2016 HLHL Foundation Awards for Science and Technology Innovation and he is the only winner from Zhejiang at the awards ceremony,
The HLHL Foundation was founded by the patriotic Hong Kong financiers He Shanheng, Liang Qiuju, He Tian and Li Guo Wei in 1994. Known as the "Nobel Prize" in, it awards Chinese scientists in three categories, the Science and Technology Achievement Award, the Science and Technology Progress Award, and the Science and Technology Innovation Award. It aims to encourage outstanding Chinese scientists and promote scientific and technological progress and innovation. Over the past 20 years, The HLHL Foundation has awarded a total of 1147 outstanding scientific and technological workers and become an outstanding representative of the social forces which set up Science and Technology Awards with impartiality and authority. Young and middle-aged talents and overseas returnees are the main force in innovation.
The R&D team led by Professor Xie Tian made successful achievements in developing a new anti-cancer drug elemene liposome and artificial breeding and cultivation techniques of Dendrobium, a rare and endangered Chinese herbal medicine, with independent intellectual property rights, and realized its industrialization. The team designed and built the world's first industrial production line of liposome targeting preparation and it was the first time to apply the liquid representative of the fourth generation pharmaceutical formulations to the traditional Chinese medicine and realized its successful industrialization. The judging panel said , "Professor Xie Tian's team has made great and original achievements." "It is of great significance to the innovation and development of the pharmaceutical industry, especially the traditional Chinese medicine industry."
It is understood that elemene liposome has benefited about 700,000 domestic and foreign cancer patients since it was officially put into operation. At present, there are about 30,000 patients per year on average using the drug in. A number of cancer hospitals in China (Cancer Hospital of Chinese Academy of Medical Sciences, Guanganmen Hospital of Chinese Academy of traditional Chinese Medicine, Beijing traditional Chinese Medicine Hospital of Capital Medical University, etc.) have proved through clinical research that elemene liposome has the curative effect no less than that of chemotherapy and has no toxic and side effects as chemotherapy drugs do.
Elemene liposome won China Excellent Invention Patent Award in 2013. Professor Xie Tian spent more than 8 years in successfully obtaining the invention patent for elemene liposomes in Euro-American countries(including the United States, Britain, France, Germany, Holland, Italy, etc.). Next, they are going to do research in these countries to register new drugs for the benefit of more cancer patients.