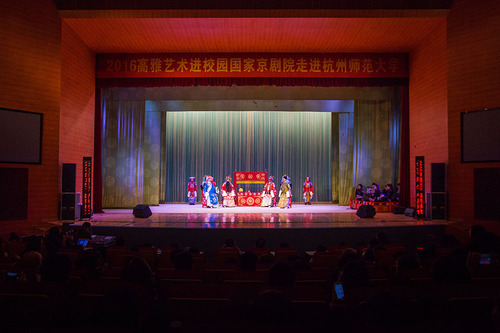 China National Peking Opera Company Performs All I Desire in HZNU
A Stage Photo of All I Desire


On the evening of November 21, the 500-seat student theater in Cangqian Campus of Hangzhou Normal University (HZNU) was full of guests, and even the aisles were fully occupied. The "2016 High Art Walks into Colleges and National Peking Opera Company Artists into HZNU —— Special Performance of All I Desire", sponsored by the Ministry of Education, Ministry of Culture and Ministry of Finance, and organized by HZNU, was put on the stage punctually.
Tuo Zhiguo, Executive Deputy Director of the First Troupe of China National Peking Opera Company (CNPOC), and Zhang Zhijun, Deputy Secretary of the CPC HZNU Committee, attended the activity and exchanged souvenirs. Yuan Chengyi, Member of the CPC HZNU Committee and Director of HZNU Publicity Department, delivered a welcome speech.
That night, Liu Kuikui, a national first-class actor from CNPOC, made an introduction to the audience about the origin and development of Peking Opera, as well as its characteristics and role types, through vivid language and acting appreciation.
The following Peking Opera, All I Desire, tells in late Ming Dynasty, a tortuous marriage story of the two daughters of Cheng Pu in late Ming Dynasty, who was the Assistant Mister of National Defense Ministry. The play was adapted by Mei Lanfang from Xun Huan Xu of Qing Dynasty, which was formerly known as Yin Ynag Shu, or Ugly Bride. It was premiered in Beijing in 1929. Because of its fascinating story and all role types, the play was not only a classic but also enlightening one for college students to get acquainted with Peking Opera. During the performance, Zhu Hong, an outstanding young actress, who plays Cheng Xue'e, an elegant and beautiful girl, and several artists, presented a joyful and coincidental love story filled with ups and downs. On the stage, the performers constantly presented "stunt" through singing, reciting, acting and fighting. At the same time, the audience gave thunderous applause again and again, and the international students from other countries enthusiastically praised the performance with thumbs up.
"It is really good that I can enjoy the NCPOC performance in our own university." said Xiao Zhang, a Shandong student of School of Physical and Education and Health at HZNU. Because he liked Peking Opera from childhood, he chased after the opera with several opera fans this time. Before the performance, the artists from the first troupe of NCPOC had an interactive discussion with HZNU students.
CNPOC Introduction
Established in January 1955, CNPOC is a national ensemble of performance arts directly under the Ministry of Culture. The first president is Mei Lanfang, a master of Peking Opera. Since its establishment, the theater has brought together a large number of outstanding performing artists, playwrights, directors, composers, stage artists, and etc., and formed a group of elite performers. The representative operas is The Lady Mu Guiying Takes Command, Women Generals of Yang Family, Red Detachment of Women, Butterflies Love Flowers, and etc. All of these have a wide range of influence and attract many in the audience. The theater has visited more than 50 countries, playing an important role in foreign cultural exchange and making positive contributions, in a bid to promote cultural exchanges between China and foreign countries, and strengthen friendship between the Chinese people and the people of the world.